Skip to content
Skip to navigation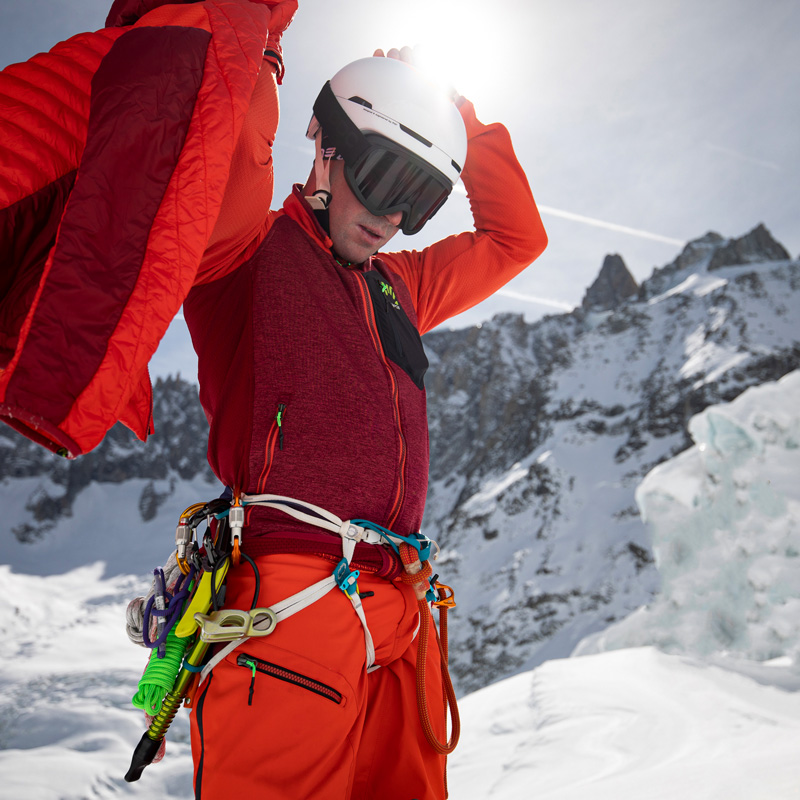 HOW TO CHOOSE CLOTHING FOR SKI MOUNTAINEERING
how to choose clothing for ski mountaineering
When you're engaging in an activity as intense as ski mountaineering, it's essential to have with you everything you need but nothing more. During a day in the mountains, you may experience extremely varied conditions, from the pleasant warmth of a climb under the sun, wearing only a lightweight jersey, to the cold of high elevations — not to mention the risk of encountering snow, rain, windstorms, and a whole range of unforeseen circumstances.
Choosing the right clothing for ski mountaineering can make all the difference. Technical, lightweight, and breathable garments allow freedom of movement, keep you cool during the most intense efforts, and provide adequate heat retention when you lock your bindings to throw yourself down high-speed descents, tracing curves in the immaculate snow.
In selecting ski mountaineering clothing, the importance of quality should not be underestimated, as the garments must have considerable resistance to mechanical stress. And it's no fun to find yourself at 3,000 meters on a col or a peak without a jacket to protect you from the cold and wind. Our clothing must support us in our adventures, and when we're out there we need to be able to almost forget that we're wearing it, knowing that we can trust our equipment 100%.
Dressing in layers: a winning strategy
When it comes to choosing the right clothing for ski mountaineering, the first recommendation is to dress in layers. Layering garments allows you to stay comfortable by removing or adding pieces based on what you're doing or the conditions you encounter.
1. First layer for ski mountaineering
A good base layer for ski mountaineering must be in contact with the skin, have a snug fit, and be stretchy enough to allow full freedom of movement. Its task is to wick sweat from the skin and keep the body dry to enable appropriate thermoregulation. Maintaining a constant body temperature is critical to prevent complications such as hypothermia, which is a risk if your body gets too cold.
This is why it's important to choose the right fabrics. Cotton garments are to be avoided, while the best options are those in wool or synthetics. Wool fibers have a greater absorption capacity (up to 23% of their weight in water), allowing you to feel dry even when you're sweating. Synthetics, whose fibers are much less absorbent (15% of their weight in water), in contrast, wick sweat from the skin more quickly. A wool blend, in which wool and synthetic fibers are intertwined, represents a good compromise, as the fabric offers the thermal properties of wool together with the moisture management properties of synthetics.
The weight of the garment is also a factor to consider. A lighter-weight base layer is suitable for continuous high-intensity activity and in temperatures that are not excessively cold. If you're planning a relaxed outing in very low temperatures and will potentially be stopping periodically, it's better to choose a thicker base layer that's capable of trapping a greater amount of air in the fabric close to the skin and therefore providing greater insulation.
2. Second layer for ski mountaineering
If the function of the first layer is primarily to manage moisture, the second and third layers have the task of providing warmth. The second layer must therefore provide insulation from the outside, conserving heat and helping to maintain a constant body temperature. To ensure comfort, it's critical that the garment offer the appropriate degree of warmth and breathability for the type of activity you're engaging in. For low-intensity activity, less breathable and more protective garments are preferred; for intense aerobic activity, the preference is for lightweight and breathable garments, which dry quickly and disperse some of the heat produced by physical exertion.
One of the most versatile solutions is fleece. It is able to maintain its insulating properties even when wet, but it offers little wind protection. If we're looking for comfort and temperature control, we have to consider softshell fabrics, which ensure warmth and breathability even during winter excursions — one layer to wear throughout the outing, minimizing weight.
3. Third layer for ski mountaineering
For the third layer, the warmest solution is, without a doubt, natural down. Thanks to its ability to trap air, it allows you to conserve heat better than any other material. However, when it absorbs moisture or gets wet, it loses its insulating capability and takes a long time to dry. An interesting solution introduced to overcome this critical issue is down with DWR treatment, which recreates what already happens in nature. The birds have a gland that produces a wax that they spread on their feathers, waterproofing them and thus enabling them to remain dry. The same thing is done artificially, by covering the feathers in silicone materials that prevent water from entering, thus ensuring that they maintain their volume and light weight even in wet conditions. Similar to down, but able to insulate even when wet, are synthetic garments, which also have the advantage of drying quickly. However, they have a lower warmth-to-weight ratio than down, so a thicker layer of fibers must be used to provide the same level of protection. A good natural alternative is offered by wool and wool blends. Merino wool retains excellent thermal properties. In some cases, it is possible to find garments on the market that use both wool and synthetic fibers, a solution that allows you to enjoy the advantages of both.
For ski mountaineering, the outer layer has the function of providing protection from wind, rain, and snow. For this reason, it must be waterproof, but breathable. Breathability is essential to allow moisture vapor from sweat to escape so you don't stay wet. Waterproof ratings are measured by water column height, that is, the amount of hydrostatic pressure that a material is able to withstand. The higher this figure, the greater the degree of impermeability. A lighter shell with a water repellent treatment can be the right choice for outings on calm days, where at most you might encounter light rain. In the event of extreme weather conditions, with heavy snow or rain, it's better to have the protection of a three-layer shell with a 10,000- or 20,000-millimeter water column rating.
5. Hybrid: the solution that combines
Is there a way to deliver breathability, protection, and warmth in a single garment? Yes, thanks to hybrid construction that combines fabrics with different properties in order to offer the greatest possible comfort. This is because the garments are designed for technical use, and every activity requires specific characteristics and therefore highly specialized clothing. In this way the second and third layers are combined together by mixing different materials. A jacket with down insulation on the front and fleece on the sleeves is a great example of a hybrid construction that offers warmth where it's needed, protecting the core, while allowing breathability and freedom of movement in key places.
6. Pants for ski mountaineering
Ski mountaineering pants can essentially be divided into 4 categories:
- Insulated pants
- Tights
- Softshell pants
- Hardshell pants
We recommend wearing insulated pants only on the coldest days, or using them as overpants when you start in the morning to protect yourself from the lowest temperatures. Lightweight tights are inspired by the concept of a race suit and are ideal for competitive athletes in training and for enthusiasts on high-intensity outings. Softshell pants are typically made of a wind- and water-repellent fabric on the outside and a brushed or fleeced fabric on the inside, in contact with the skin. They are suitable for most outings and therefore also perfect for beginners who need to build up their first ski mountaineering wardrobe. Fully windproof and waterproof hardshell pants are an essential extra layer when it's snowing or in extreme conditions. The choice of pants for ski mountaineering therefore depends very much on the intensity of the effort and on the weather conditions.
7. Accessories for ski mountaineering
It's important to always have a good pair of gloves with you. Today there are gloves on the market designed specifically for ski mountaineering. The important thing is that they be warm but not too heavy. It's also important to remember a cap, or headband, and neck warmer. In this case as well, you have many choices, also in terms of style. But always remember to choose items that are able to retain heat and protect you from the elements. A balaclava might prove to be the best option for harsh conditions.
Conclusion
As we have seen, there is no universal clothing to be used during all ski mountaineering outings. The weather and environmental conditions, first, will dictate the specific choice of the level of protection to have with you. And the type of ski mountaineering will further influence the clothing chosen. For dynamic, high-intensity activity, lightweight and breathable garments will be preferred. More exploratory and touring-oriented activity, where breaks and moments of rest are expected, will call for greater protection from the elements.
The basic rule remains to dress in layers. A breathable base layer, to wick moisture away from the skin; a second and third layer, to ensure the right protection from the cold; and a waterproof and breathable fourth layer, to provide protection from external elements such as rain and snow.
Ski mountaineering is an activity that puts significant strain on clothing, which is why it's important to look for quality. Ski mountaineering garments must be resistant to abrasion and mechanical stress. A perfect day can quickly turn into a bad experience if you find yourself halfway through with your jacket or pants ripped.