Skip to content
Skip to navigation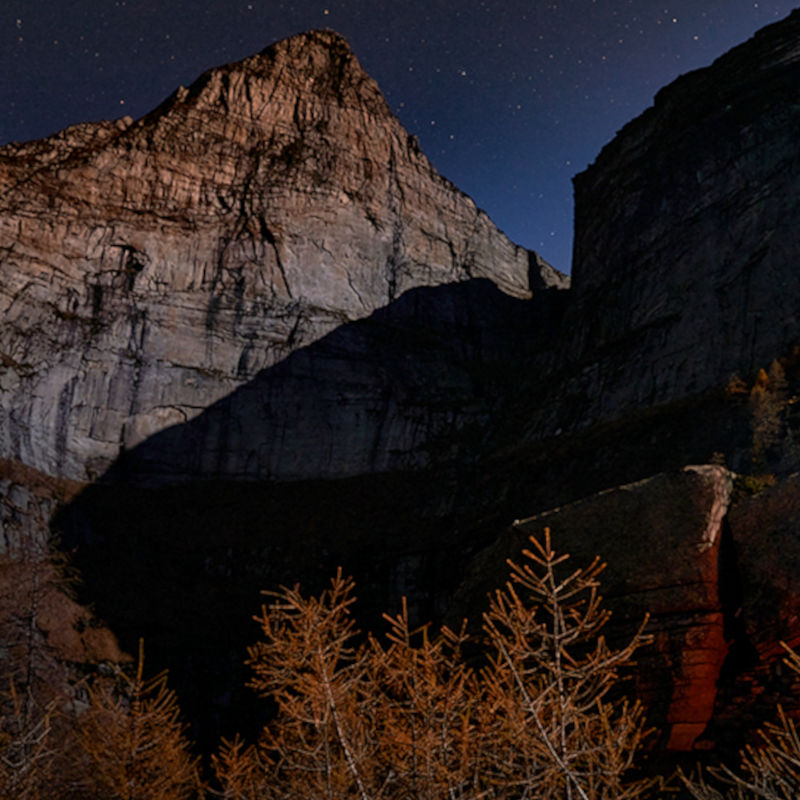 LEAP OF FAITH
PONCIONE D'ALNASCA
Poncione d'Alnasca (2,301 m),
Val Verzasca, Canton of Ticino, Switzerland
Parete Sud
(8a+/b max; 7b+ obb.; 500 mt)
Route setters: M. Della Bordella, L. Auguadri, D. Bacci 2015–2016
First free ascent: A. Zeni and M. Della Bordella 10/31–11/1/2020
"Closing the circle"
It has the massive appearance of an Egyptian pyramid, the pointed tip reaching toward the sky like an arrow. The south face of the Poncione d'Alnasca has captivated generations of mountaineers and climbers, from Comici to Bonatti, from Pedrini to Quirici, but outside the local area only a few enthusiasts are familiar with it.
The late Erminio Ferrari wrote about this face, "And more than a mountain, this is a story of men. You can climb the Poncione d'Alnasca with your legs, with your heart, your arms, ingenuity, strength, love, anger, pain. Dreams." I like to think that this time we were the ones who added a small piece to this beautiful story — we with our dreams and our ambitions; we who shared effort, joy, long falls, nights hanging in our bivouacs under the stars; we who got dehydrated under the scorching sun of May and whose teeth chattered waiting for dawn in December.
Our "Leap of Faith" represents, for me, the satisfying closing of a circle. A circle that opened even before I placed the first bolt on this route, during years in which I viewed the walls in the canton of Ticino as a new world to be explored — a real land of adventure just a stone's throw from home, where my friends and I went to put ourselves to the test, have fun, and escape from our daily routines.
For all of us, the south face of the Alnasca was the queen of the walls. We looked up at it from the bottom, fearing the verticality of those 500 meters of granite and the long approach that separate it from the valley floor.
Luca Auguadri, who was from Chiasso in Ticino and my faithful companion in adventures and developing new routes in those years, was the first to talk to me about the possibility of freeing a new route on the left side of the Alnasca.
But in the interval between words and deeds, years passed. Years spent repeating and trying to get to know this place and this wall thoroughly, becoming one with the environment, with its smooth slabs and its silences. It took years to convince ourselves that the time was finally ripe to try, to understand that if we waited any longer our idea would vanish like snow in the sun.
In the fall of 2015, the route takes shape. In addition to Luca and me, there is my partner, Arianna Colliard, who accompanies me on the first pitch, and David Bacci, who shortly thereafter spends two days on the wall with Luca, until they reach the ledge after the sixth pitch.
We develop the route in the style that we've come to embrace over the years: we free climb as much as possible, trying to use friends and nuts for protection; then we place bolts where other types of protection can't be used.
After a couple of days spent fighting on these steep slabs with David, finishing the route together with Luca is unforgettable. In December, with a marked temperature inversion, the perfect conditions arise to climb the south face. Below us is a sea of fog, lapping at the base of the wall like waves breaking on a cliff; above us, the clear blue sky, the crisp air of the winter that's just beginning. But our circle is only half traced. To close it, we still need a free climb of the entire route: 16 pitches in total for about 500 meters of climbing!
During the spring of 2018, the free climb becomes one of my goals for that year, and I organize several outings with different climbing partners to study and try to free all the pitches. Luca Moroni, Enzo Scossa-Romano, Francesco Deiana, and, again, Luca Auguadri come with me to the wall, for at least two days each. Freeing "Leap of Faith" is an exciting, stimulating project full of obstacles, due to the condition of the wall and to the extremely demanding but also unpredictable type of climbing. There are a couple of dynos in a class by themselves, where the last thing you want to do is have to take both hands off and leap into the void, hoping to reach the next hold.
Slowly the 2018 season comes to an end, and I go home almost empty-handed: I free all the individual pitches except one, where even after several attempts I barely manage to link the hard boulder with the top rope.
I convince myself that maybe this route is too hard for me to free cleanly. I'm a bit confused, and I don't know what to do. I need a new idea; I need to change my approach a bit. 2019 goes by fast: Bhagirathi, Patagonia, Pakistan, my book, and the birth of my son occupy my thoughts and consume most of my energy and time. At the end of the year, a new idea comes to me: "I'll invite someone stronger than me, someone whose approach I respect and who I'd like to partner with to do a good route ... Let's see how it goes. If someone else frees it, I'll be happy all the same. And who knows — maybe seeing a better climber in action will inspire me to do better."
In the rich and diverse Italian lineup of strong and young climbers, Alessandro Zeni, in my opinion, has always stood out in recent years, not only for his talent and his technical skills but also for his journey of development and exploration across the entire vertical spectrum. I'd been following him for some time, and when we'd climbed crags together he'd immediately impressed me with his ability to read the rock, with his moves, with how he adhered to and danced on the smallest irregularities in the vertical limestone slabs. I had celebrated the completion of his great project in Saint-Loup in Switzerland a few months earlier, and knowing that he was open and motivated to try new experiences and big walls, I thought it would be nice to suggest that he come with me on this route. I suspected that it was actually well below his abilities, but I was sure it would still be a good opportunity to experience something together and learn something new from each other.
Ale gladly accepted my invitation, and so, after having had to skip the spring season due to the coronavirus lockdown, we find ourselves at the end of September on a damp and foggy day for a first inspection of the route. It doesn't take him long to get used to the 1,300 meters of elevation gain on the approach, to pulling a 30-kilogram bag, or to sleeping for the first time on a portaledge on the wall ... and in a couple of tries he works out the two hardest pitches. But he's stopped by the strange wet dyno on the third pitch, which he just can't execute that day.
We come back a month later, and this time Tommy Lamantia, Fulvio Mariani, Nicolò Mariani, Mario Casella, and Andrea Peron are with us as well. They want to shoot some photos and video for a short film about the route and the mountain. We spend three unforgettable days in this little corner of the Verzasca Valley: perfect fall weather, a light breeze, and a full moon that keeps us company like a lighthouse during the night on the wall.
This time, Ale nails the dyno that had stopped him before, and he completes the first free ascent of "Leap of Faith" in fine style!
I set out from the parking lot with a bit of a defeatist attitude, but after seeing him climb with such precision and determination I feel motivated again and concentrate on pushing myself to the limit. In the end, to my great surprise, I free all the hard pitches of the route, including the one that had rebuffed me many times two years earlier! When I hit the crux leap on the tenth pitch (the one that gives the route its name), a rush of adrenaline fills my body, and even now my hands sweat when I think about it. It's a pity that a fall on an easier part of the third pitch mars my performance, but there's no time for me to repeat this traverse. It doesn't matter. Maybe this time I, too, was looking for experience more than performance: our circle is finally closed.
experience by
MATTEO DELLA BORDELLA