Skip to content
Skip to navigation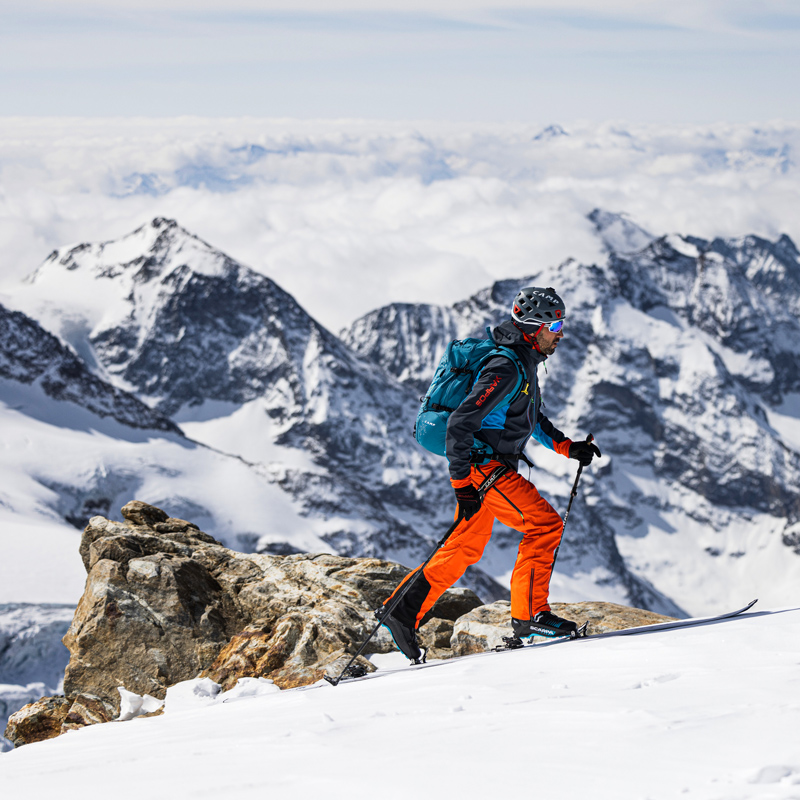 SKI MOUNTAINEERING: 6 TIPS FOR GETTING STARTED FROM ROBERT ANTONIOLI
A recent addition to the Olympic disciplines, ski mountaineering is attracting more and more enthusiasts every year — thanks to the beauty of the places it allows you to explore, the close contact with nature, and the revitalizing effort of the climbs.
"When you gain enough experience, a whole world of possibilities opens up for you," says Karpos athlete and ski mountaineering champion Robert Antonioli. "You can immerse yourself in the discovery of untouched landscapes, where you climb with your skins to enjoy a sunrise or a sunset before embarking on an adrenaline-filled descent to the valley," leaving a faint trace of your passage. "The beauty of ski mountaineering is that a gust of wind or a light snowfall is enough to erase every sign of your presence," continues the multiple-time world champion.

Ski mountaineering is an engaging sport, but it's not something to be taken lightly. The environment that it's practiced in harbors objective risks and dangers that it's important to be aware of. "It's a sport that should be approached step by step," explains Robert Antonioli, who offers some of his tips for enthusiasts who want to discover fresh snow and the excitement of the backcountry.
1. Take a course or join a ski club
For young people who want to try ski mountaineering, I recommend joining a ski club. This was essential to my journey as an athlete. I was lucky enough to find passionate and competent people who encouraged me to continue and to try to improve my skills. For those who are a bit older, I'd suggest taking an Alpine Club course or contacting a professional instructor or guide, so you can start discovering the great beauty of this discipline safely.
2. Look for safe routes
For your first experiences in the mountains, it's important to choose safe locations. Today many ski areas in the Alps offer the opportunity to practice ski mountaineering, with specific routes for the climbs and allowing the option to descend on the groomed runs. For a first approach, it's also possible to ski on forest roads compacted by a snowcat. Usually these are enjoyable roads that lead to cozy alpine huts.
3. Build up your fitness
Ski mountaineering is an endurance sport, and it requires a lot of training. The first few outings will always be difficult. Even those of us who are serious athletes find it extremely tiring at the beginning of the season when we do our first climbs, even with just a thousand meters of elevation gain! This is why it's important to train and have a minimum level of fitness before the first outings, so we don't find ourselves with no strength left and not able to go up or down. Fast walking uphill, on trails, or mountain biking is a good workout. For the first few times on ski mountaineering skis, I recommend taking it a bit easy and choosing itineraries that aren't too long and that have reasonable gradients. That way you better appreciate the effort of the climb and are able to enjoy the descent even more.
4. Choose the right equipment for ski mountaineering
Ski mountaineering requires specific equipment. The skis are not the same as downhill skis, nor are the bindings and boots. The same goes for clothing, which is specific to the activity and allows you to avoid overheating and stay dry on the climbs, thanks to both the materials and the layering, and then be protected from the wind and cold on the descents. Needless to say, it's essential that the fit be comfortable and allow full freedom of movement.

For your first outings, you don't need to immediately buy all the necessary equipment. Renting skis and boots will allow you to experience the discipline and decide whether you're really motivated to continue before making any major purchases.
5. Prioritize avalanche and accident safety
Safety always comes first, on every outing. Before you can feel self-sufficient on a ski mountaineering adventure, it's important to learn to understand the snow and the risks associated with avalanches and snowslides. It's crucial to consult the avalanche bulletin before every trip, and remember to always have a transceiver, shovel, and probe with you.
These are tools that are critical in the search for people who have been buried — tools that it's essential to feel perfectly comfortable using, so constant practice is needed. Backpacks with airbags are becoming increasingly popular; they can be a great help in the event of an avalanche because, if used correctly, they enable you to stay afloat without being buried in the snow.
For your safety, it's important to always remember to wear your helmet on the descent. In the backcountry, especially at the beginning and end of the season, there's a risk of encountering rocks protruding from the snow cover — a big danger if you're not wearing a helmet.
6. Never go ski mountaineering alone
Even after many years, and with much experience, the cardinal rule still applies: never go out alone. Going into the mountains in the winter, no matter how deep your knowledge of them, entails a whole series of objective risks, first and foremost that of avalanches. Going with others, carrying the necessary safety equipment and following clear rules, allows you to better mitigate and manage any critical or dangerous situations.
Conclusion
We've seen that getting assistance from a professional instructor or guide and paying attention to safety, equipment, and fitness are the keys to starting off on the right foot with ski mountaineering.
If you approach this sport following these simple rules, it won't be an interest that disappears like the tracks under the next snowfall; instead, it will last over time, season after season, giving you great satisfaction and enjoyment.
CHECK OUT OUR SKI MOUNTAINEERING COLLECTION: