Skip to content
Skip to navigation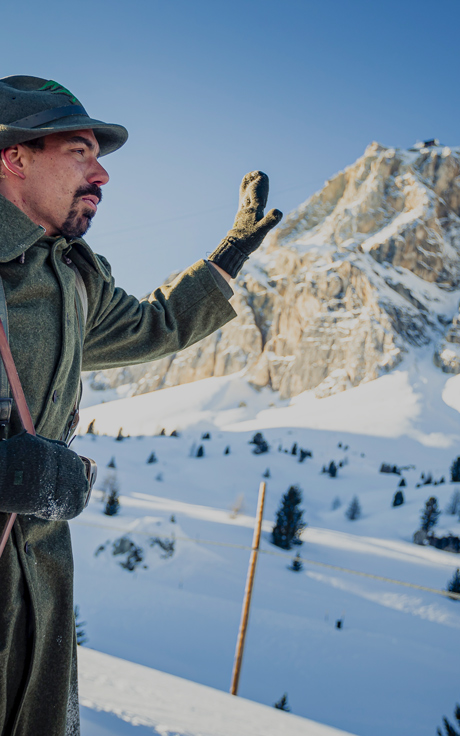 REBUILDING CIMA GALLINA'S HISTORY
THE PROJECT
Every mountain tells a story, passes on a teaching.
In the case of the eastern range of the Dolomites, it's not about a mountaineering endeavor or the peoples who first settled on the cliffs that tower over Cortina d'Ampezzo.

You feel the history of this area, where the whistling of the wind accompanies the changing of the seasons, in a silent way, as if resting from a past that made too much noise.
It's the shots fired by the soldiers of the Italian army and the Austro-Hungarian troops who fought on the Lagazuoi, Falzarego, Cinque Torri, and Cima Gallina front during the Great War. Today, the trenches dug into the rock and the open-air museums that surround the walls of these iconic passages are the relics of a heritage to be preserved, an enduring admonition that the mountains should unite and not divide.

In particular, the Italian artillery outpost, the sleeping quarters, and the observation posts that were the scene of conflict during World War I, between 1915 and 1917, stand out against the rocky spike of Cima Gallina. This is where the historical and cultural tour organized by Rifugio Col Gallina ends. It's a sensory experience that — through anecdotes and experiences such as a hot meal and a night in the silence of the tunnels dug by the soldiers — allows you to relive the climate of anxiety the soldiers were immersed in.

With the Help the Mountains program, we've chosen to support the renovation of the places in this area, where an important chapter of our history is preserved.
A HIKE TO CIMA GALLINA, ON THE TRAILS OF THE GREAT WAR
We start from Rifugio Col Gallina (2,055 m) when the sunset first begins to color the sky. By the time we've walked a few meters, Averau, Sasso di Stria, Lagazuoi, Tofane, Valparola, and Cinque Torri are ablaze on the horizon, while the stories of the historical reenactor slow our pace. The nature around is silent, and imagining how so much beauty has been violated by men fighting their own kind makes us shudder.

A succession of gentle ups and downs leads to the fork connecting Croda Negra and Cima Gallina: the spectacle offered by Monte Civetta, the Pale di San Martino, and the Marmolada is incongruent with the view of the tunnels dug by soldiers during the Great War.
We turn right, going around the rocky outcrop on the eastern slope of Cima Gallina (2,322 m). The Italian artillery stronghold of the Great War and the lookout posts stand suspended, becoming one with the orange rock, at the base of the outline of the tower that emerges from the expanse below.

A hot meal, cooked on a wood stove, anecdotes about life in the trenches. We can't close our eyes: the stars above the mountains keep us looking up, while our thoughts return to what happened on these crests a few decades ago.