Skip to content
Skip to navigation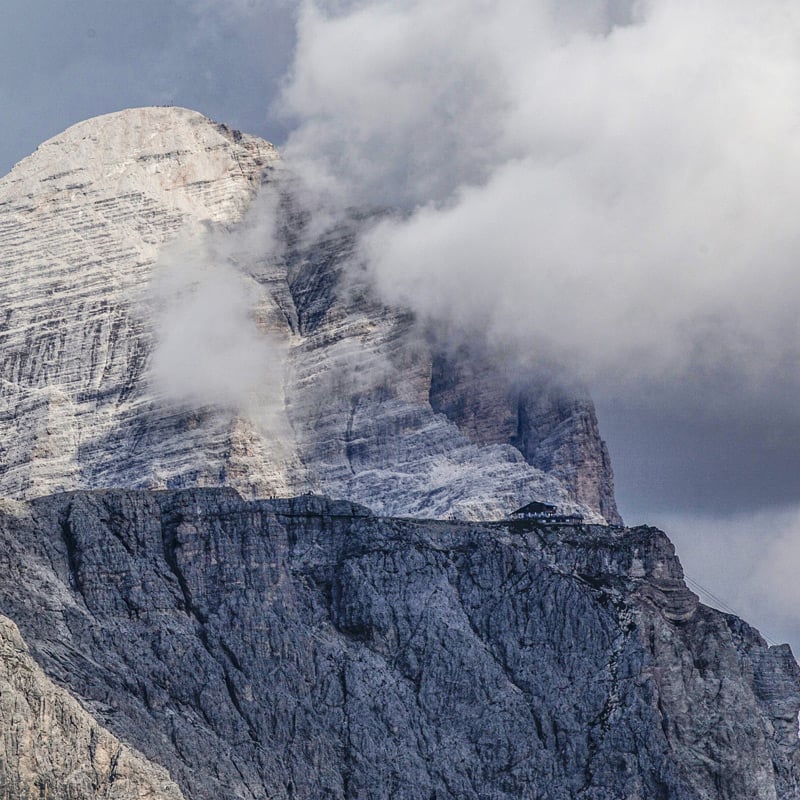 RIFUGIO STORIES: LAGAZUOI
THE MOST FAMOUS TERRACE IN THE DOLOMITES
Before Ugo Pompanin fell in love with this place in the late 1950s, the Lagazuoi summit retained an unknown charm. The older generation remembered it as a sad place, a place of war. For three long years, between June 1915 and November 1917, the Italian Alpini and the Austrian Kaiserjäger dug trenches and tunnels in the bowels of the mountain, fighting in extreme conditions. But young people associated Lagazuoi with the mountaineering opportunities offered by its rock, both in summer and in winter.

For Ugo, a member of the Scoiattoli di Cortina, the legendary Ampezzo mountaineering association, this was a one-of-a-kind playground where he could put himself to the test while enjoying a mountain made up of vertical walls, slender pinnacles, crags and panoramic views as far as the eye could see. In those years, Pompanin was focused on significant repetitions, such as the Torre del Lago and the Spigolo Torre di Fanes, routes that have now become great classics. "It was during these ascents that my dad came to recognize the tourist potential of the area," says Guido Pompanin, who has been managing Rifugio Lagazuoi for 40 years now. A balcony overlooking the Dolomites. While he talks, he takes us upstairs to show us the rooms and the beautiful view from the large panoramic terrace.
Before thinking about the rifugio, Guido's father, together with some friends, established a company to build a cable car that would take tourists from Passo Falzarego up to near the summit of the mountain, so that everyone could enjoy the extraordinary view that opens onto the Dolomites, a UNESCO World Heritage Site. "A real ocean of peaks," Guido says, "from the Cunturìnes to the Cime di Fànes, to the mighty Tofane, to the Odle, to the splendid Marmolada."
Today, Ugo Pompanin, who died in November 2022 at the age of 96, appears in photos scattered here and there around the rifugio. They tell his story in a haphazard way. Mountain guide, member of the mountain rescue team, rifugio manager. Somehow visionary in his approach. "My dad was a mountaineer and a guide," says Guido, his eyes glistening as he introduces his father while we enjoy the sun on the terrace — the most famous terrace in the Dolomites, thanks to its incredible panorama.
"He practiced very little, because the decision to build the rifugio was all-consuming. When work began here, there were only the ruins from the Great War, much more visible than they are now, and nature." In front of us we have the Marmolada glacier. In the center, at the top, a dark spot appears. It's only been a week since the terrible avalanche that claimed 11 lives. "The mountain has changed a lot since the 1960s," comments Pompanin as his eyes scan something that cannot be found. His pupils dart from one spot to the next, as if he can't figure out what has happened. "They show us their fragility."
The construction work on the rifugio began in the spring of 1964, a few months after the inauguration of the cable car, and was completed in September 1965. "When he decided to build the rifugio, Dad first bought the land, because a thing is yours only when you own the land you build it on." His was a choice that involved the whole family and that turned their lives upside down.
For Ugo, it was a choice dictated by passion. "We understood it later, as the years passed. My father's passion for the mountains, together with his mountaineering background, played a fundamental role in his choice: he fell in love with this place and these panoramas."
To pursue this passion, he decided to leave a secure job as the manager of a butcher's shop and convinced his wife, Alda, to follow him, together with their children. The combination of their personalities created a rifugio with a unique character. "She was really passionate. She had a strong sense of hospitality. She always said, 'Ugo took me to Lagazuoi when I didn't want to go, and he took me back down after I had fallen in love and was completely enraptured.'"
The father, though, was never able to give up that eagle's nest in the Dolomites. "He continued to come up to check to make sure everything was in order in his rifugio," Guido recalls in a broken voice. "He called every day to find out how work had gone, if everything was OK with the staff. Until the last day he was the owner."
Today the rifugio is modern, and, thanks to the cable car, it offers greater comforts than more isolated structures. "But it's still a life that requires some sacrifice. My brother, Paolo, and I grew up with a love/hate relationship toward a choice that has affected our lives so much," explains Guido, who, one could almost say, has spent his entire life here at the rifugio. "I have memories of when I was still a child, here on the terrace playing with my brother. Then, when I turned 14, I started to work. The memories of my summers coincide with the seasons of this rifugio."
Then, in 1978, more than 40 years ago, management. "I went up with the conviction that I would soon receive my draft card. In the end I stayed, against all odds," Guido says with a laugh, almost moved. It was his brother, Paolo, who would remain, everyone thought. "He always climbed with Dad, and he worked here for 10 years. Now he lives in California. Instead, I ended up here because I wasn't so good at the university, and my father was strict on this topic: either you study or you work." Eventually, he too fell in love. "The days are long and tiring, but I do it willingly. I'm here with my family, in an incredible place that everyone can enjoy."
The cable car makes the structure accessible to everyone and allows even those who are unable to climb on foot to admire the Dolomite peaks. "The cable car has no architectural barriers — it's designed and equipped to accommodate people with disabilities," explains Guido. "The same goes for the rifugio terrace, which can also be reached with a wheelchair." But that's not all. Inside, there are stairlifts and services designed for those with limited mobility. "If they want to, it's possible to reach the summit cross of Piccolo Lagazuoi, at an elevation of 2,778 meters." In fact, the trail, restored by volunteers from the Treviso chapter of the National Alpini Association, is a dirt road that can also be navigated by people in wheelchairs or with reduced mobility. "Many things have changed in 50 years, but the spirit and hospitality are still the same as those of our parents."
PORTRAIT OF UGO POMPANIN BY MANRICO DELL'AGNOLA
He was a handsome man, tall, kind, with noble grace. Very different from many of his colleagues — always worthy people, but with coarser and more abrupt ways. I met Ugo Pompanin a lifetime ago, and, among his many exploits, there's one that has always impressed me: with Gino Soldà he completed the first repetition of the Cassin route on Torre Trieste. In two days, on September 2 and 3, 1948 — something from another world. He was a piece of history among us, until a few months ago. One of the last witnesses of a type of mountaineering that, especially in recent years, has become very distant and unfortunately forgotten or not appreciated for its real value. That route was developed by Riccardo Cassin and Vittorio Ratti in 1935, in three days of climbing, and, with a war in the middle, all those years had to pass before a daring climber of the time would find the courage to repeat it. Ugo was very young, and his partner was one of the best climbers of the era. Ugo was a kid and was eager to go first, but Gino was the boss and he wanted to lead the hardest pitches, even though Ugo was up to it too.

Until a few years ago, he could still be seen whizzing down the slopes on skis, alone or with his grandchildren, happy and proud in his mountains, the most beautiful in the world. And if we can now enjoy this "eagle's nest," suspended between the most famous peaks of the Dolomites, we owe it to him.
EXPERIENCE BY

MANRICO DELL'AGNOLA